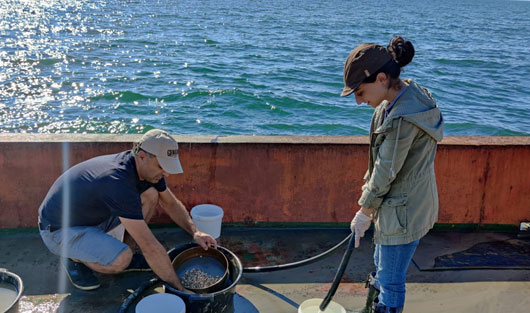 Aquaculture
The specialists of the National Environmental Agency of the Ministry of Environment Protection and Agriculture carried out a naval expedition in the Gonio-Anaklia area within the framework of the Black Sea National Monitoring Program.
Up to 200 samples of sea water and seabed were taken by the National Environmental Agency specialists using modern standards, specialized equipment.
Studies determine the physical, chemical and biological parameters of the sea, as well as the qualitative and quantitative parameters of planktonic and seabed organisms.
Based on the research, it is possible to timely detect and assess the current ecological changes in the marine environment as a result of the influence of natural and human-induced factors.
The aim of these studies is to assess the environmental status of the Georgian Black Sea coast and the continental shelf in accordance with the requirements of the EU Maritime Strategy Framework Directive (MSFD) and the Water Framework Directive (WFD).